COVID-19, Vaccines and Pregnancy
Guest Author for Surrogate Alternatives, Inc., Epidemiologist, Dr. Leslie E. Phillips, PHD.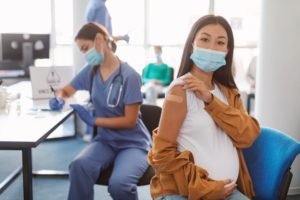 COVID-19 vaccination during pregnancy is an intensely personal decision.  As a person who cares about people, and as an epidemiologist who has been following COVID-19 since before we even had a name for it, I want to share with you accurate, up-to-date science on the COVID-19 vaccines and pregnancy.
As a surrogate focused on your health as well as the health of the baby you are carrying, you are making thoughtful decisions each day and now COVID-19 vaccination is another decision to consider. Below is some factual information designed to give you the data you need and deserve to make a decision.
Over the past six months, doctors and researchers have learned a great deal about COVID-19, COVID-19 vaccines, and pregnancy.  All of this new information points to the same conclusion: COVID-19 infection during pregnancy increases the risk of hospitalization and death for pregnant women.  It also increases the risk of pregnancy complications and preterm births.  On the other hand, evidence clearly shows that COVID-19 vaccines before or during pregnancy do not reduce fertility, and are safe for pregnant women and the babies they are carrying.
These vaccines are proven to help your body ward off COVID-19 and its most severe impacts.  They are also strongly recommended by medical professionals for the protection of pregnant women and babies in utero.   As you consider this decision, consider these Important Facts About COVID-19, Pregnancy, and Vaccines:
Find your trusted messenger
I encourage you to be the healthiest person you can be.  I am guessing you already do so many things to support your health and the health of the baby you are carrying.  You have probably even tried to learn about COVID-19 vaccination during pregnancy.  There is a lot of information available; here is a summary of several research studies on COVID-19, COVID-19 vaccination, and pregnancy outcomes. It concludes that these vaccines are safe and much safer than COVID-19 during pregnancy.  But don't just take my word for it, find your trusted messenger with whom you can discuss COVID-19 vaccination during pregnancy.  Your messenger should be someone who you respect, who has your best interest at heart, and has the expertise to give you the unbiased information you need and deserve to make a decision. Your messenger should listen to your concerns without defensiveness or judgment.  Be suspicious of answers that do not make sense or that fall into the category of "just take my word for it". A good messenger will not feel threatened if you ask a lot of questions and will patiently offer you fact-based answers. 
Delta, Delta, Delta 
Delta, Delta, Delta!  It makes me think of that vintage Saturday Night Live Skit. But unfortunately this Delta is no laughing matter.  COVID-19 was already a threat to pregnant women but with the Delta variant, it is even more dangerous. The Lancet recently published research concluding that someone infected with the Delta variant of COVID-19 is twice as likely to end up in the hospital than someone infected with an earlier form of the virus.
No one wants to hear "I'm sorry, there's nothing more we can do."
It's horrific how this virus has uprooted our lives, taken away those we love, and has found ways to evade some of our most careful protections. I feel heartbroken to hear about unvaccinated pregnant women flooding ICUs, struggling to breathe and of new mothers not seeing or holding their babies until coming off a ventilator.  Speaking to 7 News Miami an obstetrician, recently reported:
"I've seen them deteriorate in the hospital," Dr. Mary Beatrice Squire, an OBGYN at Broward Health Coral Springs, said. "I've seen them diagnosed with pneumonia. I've seen them diagnosed with respiratory failure. Seeing an expectant woman who is expecting a healthy baby to be unable to breathe and require ventilator support and ICU admission is something I've never seen at this frequency. Frankly, it's very frightening."
There is so much more to say about pregnancy in the context of this virus and these vaccines. While I cannot cover all of the questions you might have in a blog post, below I try to cover some of the most common ones:
Frequently Asked Questions About COVID-19 Vaccines
But you don't even know me, so why would you care what I decide?
I do not know you but I know how generous and thoughtful the decision to become a surrogate is. I know that you deserve to be healthy and happy.   Many have refused this vaccine because they have been given wrong information and only when they get hospitalized with COVID-19 do they realize what a serious virus this is.  But by then it's too late.  I know I do not want that to happen to you.
But what about long-term effects of vaccination?
It is smart to think about your health over the short and long term. Right now we have a year and half of information indicating there are no long-term vaccine effects.  Plus, we know that for other vaccines, adverse events occur almost without exception within six weeks of vaccination and in that window of time we have lots of data with the reassuring news that these vaccines are incredibly safe.  In contrast, COVID-19—the disease—is unsafe in the short and long-term.  People suffer and even die, but even for those with a milder case of COVID-19, we know that a proportion of people never seem to fully recover.
How are babies impacted if a woman gets COVID-19 during pregnancy?
The health impacts on these newborns range from very minimal to extremely severe.  Preterm birth is notably more common among women who become infected.  Stillbirth is also a risk.  After suffering a devastating stillbirth resulting from COVID-19 infection, Kyndal Nipper of Georgiaregrets her decision to not get vaccinated and is now urging all pregnant women to get vaccinated.
Who has been vaccinated?
Darius Rucker, Britney Spears, Kate Middleton, Marco Rubio, Dolly Parton
Donald Trump and every living US president
Greg Abbott, Ron de Santis — all 50 state governors, Democratic or Republican
80% of the US military
How many pregnant women who were vaccinated have been studied?
Over 35,000 in this study alone plus several other studies have been conducted in the US and other countries.  None of these studies has detected any risk from COVID-19 vaccines for pregnant women or their babies.  It is based on these studies that the experts at both The American College of Obstetricians and Gynecologists (ACOG) and the Society for Maternal-Fetal Medicine recommendthat all pregnant women get vaccinated against COVID-19.
Can the vaccine cause infertility?
No.  A recent study compared the success of transferring embryos to women who carried antibodies to SARS-CoV-2 after vaccination or infection to success rates among those who had no known infection or vaccination. Fertility between the two groups did not differ. Here's the study if you want to learn more.
Why get vaccinated when vaccinated people still get sick with COVID?
It is true, fully vaccinated people can and occasionally do get COVID-19.  However, it is extremely rare that someone who is fully vaccinated will experience COVID-19 severe enough to lead to hospitalization or death.  In fact, most people who experience these so-called "breakthrough" infections have very mild illness, or may not have any symptoms at all.  Think of vaccination as a bike helmet.  If an object is coming at you and hits the helmet, there is a good chance it will bounce.  But even if it hits you hard and you have a head injury, the helmet will make it much less likely that it is a serious or life-threatening head injury.  COVID-19 vaccine is a lot like that, it won't stop all illness but it does a great job at blunting the severe forms of illness that lead to hospitalization and death.
What is VAERS and what can it tell us?
VAERS, or the Vaccine Adverse Events Reporting System, is a surveillance system in place to track the safety of vaccines even after they are out in the world.  It is set up to catch the rarest of rare events, the kind that happen to one in a million people.  The FDA feels it is not enough to test a vaccine in clinical trials but wants to follow its effects and ensure safety over time and across very large populations.  So far the COVID-19 vaccines are demonstrating again and again that they are a very safe way to avoid the worst impacts of COVID-19.
But science takes time and these vaccines happened so fast, how?!
It's an excellent question, it seems like these vaccines happened overnight.  We even called some of the work "Operation Warp Speed".  I want to assure you that no steps were skipped in studying these vaccines and that three things made it possible to achieve this warp speed.
These vaccines did not happen overnight.  For instance, the mRNA platform on which most US-approved vaccines are based dates back to the 1980's and an innovative woman, Dr. Kati Kariko, who had a vision of using messenger RNA as a way to improve health.  She worked tirelessly with other scientists to make that vision a reality.  The viral vector technology used in the Johnson and Johnson vaccine is even older, dating back to 1972. It took time to perfect these platforms and that time was the past 30 to 40 years!
Doing things simultaneously helped make this process a lot faster.  For instance, we started to produce the vaccine doses even before we knew that the vaccines would work.  We decided it would be better to throw out ineffective vaccines than not have enough vaccines to protect all Americans.
Lots of clinical trial participants and lots of infections means quicker trials.  When clinical trials are performed, we calculate the number of people needed to participate to see results in a given period of time.  This number is based on many factors, including how many people are in the trial as well as how many people get COVID-19.  These trials were conducted with tens of thousands of volunteers and during a time of high COVID-19 transmission so answers came relatively fast.
As mRNA COVID-19 vaccines quickly become one of the most common vaccines in human history, we have had many chances to observe and track their safety over the past ten months.
I had COVID-19 so aren't I immune?
If your COVID-19 infection occurred within the past three months, you probably have good immunity to COVID-19.  However as time passes and new variants emerge, your immunity will wane and you may once again be vulnerable to COVID-19 infection or severe infections.  It's similar to the fact that you may have had a bad cold and can still get another bad cold.  Except COVID-19 is much worse than a bad cold.  Even vaccine immunity does not last forever, and booster shots are recommended after some time has passed.
It's an mRNA vaccine, what if it alters my DNA?
These vaccines cannot alter your DNA.  Actually very few things can – ionizing radiation, some chemicals, and some viruses and bacteria.  None of the COVID-19 vaccines have this ability.  In fact, the most common type of COVID-19 vaccine called an mRNA vaccine (branded as Pfizer or Moderna) cannot even enter the cell's nucleus where DNA is stored.
The CDC keeps changing guidance, how can I trust flip-flopping advice?
I hear you.  While it probably feels like this cartoon, where the scientists at CDC are just spinning the wheel and landing on advice each day that may differ from the advice the day before. With a new disease, changing science is extremely common, albeit disorienting.  One thing public health professionals (like myself) have not done well is let everyone know that all science, especially the very new science of COVID-19, grows and matures when new information becomes available.  And that's actually a good thing.  While the rapid pace of changes during this pandemic can feel unsettling, they are quite normal and represent us getting better at understanding and fighting this virus.
What if I have more questions?
If you have more questions, you should get them answered. An opportunity to ask your question during a live Q&A session with epidemiologist Dr. Leslie Phillips will take place October 5th at noon Pacific time, please join by registering here.
*The Johnson & Johnson vaccine is associated with some extremely rare adverse events like Guillain Barre Syndrome (also a rare occurrence with many other vaccines) and a specific type of blood clot.  In the US, these clots are estimated to occur in approximately one in a million persons and, when recognized, can be treated.
About the Author:

Dr. Leslie E. Phillips is an Epidemiologist specializing in research design, outbreak response, pandemic infection control, and best practices for addressing vaccine hesitancy. Accomplished in helping organizations and individuals assess and mitigate COVID-19 risk, assess testing options, consider the role of ventilation / air filtration, prepare return-to-work plans, and ensure accurate up-to-date scientific actions, she is able to provide insight and support to clients navigating the COVID-19 landscape.
Having received a Masters Degree in Public Health from Harvard University in 1998 and a Doctorate in Epidemiology from the University of Washington in 2011, Leslie has served in a variety of analytic and leadership capacities in research and public health and has expertise in survey research, study design, health equity, population health, and worker wellness.
*Surrogate Alternatives, Inc. recommends speaking with your Doctor to make sure the vaccine is right for you.